Bruce Graduates from NHA Leadership Institute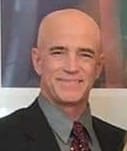 LA VISTA, Neb. — The Nebraska Hospital Association (NHA) honored 41 graduates of Leadership Institute Class XVI during their 92nd Annual Convention Awards Banquet, which was held on Oct. 16, 2019, at the Embassy Suites Conference Center in La Vista. Mick Bruce, facilities supervisor, and Angela Pruitt, former Health Information Services Director, were among the graduates.
The NHA Leadership Institute, which has over 400 alumni, is a 10-month intensive leadership development program that is geared toward providing middle management and up-and-coming leaders within Nebraska member hospitals with the necessary skills to become exceptional leaders and puts them on the path to senior management positions. It is vital for CEOs to develop a leadership pipeline to ensure effective succession planning while enhancing employees' contributions to the organization.
Participants in the intensive leadership development program completed 40 hours of instruction and training, individual development planning, personality assessments, feedback exercises and management coaching. The NHA Leadership Institute is a partnership between the NHA and expert faculty from Bellevue University.
They also engaged in a variety of leadership-oriented topics, including building a foundation of leadership, using 360-degree assessments for improved leadership, working with conflict, analyzing performance issues, personality traits in the workplace, coaching for improved performance, leading across the generations, leading teams and succession management.
"We are very proud of this year's graduates of the NHA Leadership Institute as they have demonstrated a desire and commitment to becoming exceptional health care leaders for Nebraska," said NHA President Laura J. Redoutey. "It's a credit to the commitment of our participants and the excellent work performed by our partner, Bellevue University."
The NHA acknowledges and congratulates the following Class XVI graduates of this year's
NHA Leadership Institute:
Julie Baumgart | Columbus Community Hospital | Columbus
Candy Bell | Harlan County Health System | Alma
Andrea Blecke | Providence Medical Center | Wayne
Jessica Bortner | Community Hospital | McCook
Mick Bruce | Jefferson Community Health & Life | Fairbury
Jennifer Brunswick | Community Hospital | McCook
Megan Burkey | Memorial Health Care Systems | Seward
Mike Dougherty | Thayer County Health Services | Hebron
Cheryl Eklund | York General | York
Sara Ellis | York General | York
Brent Enninga | York General | York
Kelly Findlay | Pawnee County Memorial Hospital | Pawnee City
Kami Foster | Community Hospital | McCook
Mirya Hallock | Webster County Community Hospital | Red Cloud
Ashley Havel | Fillmore County Hospital | Geneva
Marla Heitmann | Thayer County Health Services | Hebron
Christine Hutchinson | St. Francis Memorial Hospital | West Point
Jennifer Johnson | Box Butte General Hospital | Alliance
Kaitlyn Kavan | Saunders Medical Center | Wahoo
Jenny Knapp | Saunders Medical Center | Wahoo
Brittany Langan | Howard County Medical Center | St. Paul
Megan McGown | Great Plains Health | North Platte
Michelle Meyer | Columbus Community Hospital | Columbus
Deb Moorhous | Community Hospital | McCook
Tina Pate | Great Plains Health | North Platte
Sam Prokopec | Saunders Medical Center | Wahoo
Hayley Prosser | Thayer County Health Services | Hebron
Angela Pruitt | Jefferson Community Health & Life | Fairbury
Tierney Reilly | Community Hospital | McCook
Nancy Rinkol | Columbus Community Hospital | Columbus
Joni Sautter | Box Butte General Hospital | Alliance
Katie Schrad | St. Francis Memorial Hospital | West Point
Janell Shelton | Kearney County Health Services | Minden
Laura Teichmeier | Memorial Community Health | Aurora
Courtney Thurlow | Chadron Community Hospital & Health Services | Chadron
Megan Travis | CHI Health St. Mary's | Nebraska City
Sarah Troester | Chadron Community Hospital & Health Services | Chadron
Deb Uldrich | Fillmore County Hospital | Geneva
Heather Valasek | Howard County Medical Center | St. Paul
Danny VanRanken | Kearney Regional Medical Center | Kearney
Ben Young | Valley County Health System | Ord
https://www.jchealthandlife.org/wp-content/uploads/2017/02/JCHL_Logo_header_340x156.png
0
0
Lana Likens
https://www.jchealthandlife.org/wp-content/uploads/2017/02/JCHL_Logo_header_340x156.png
Lana Likens
2019-11-04 17:31:01
2019-11-04 17:31:01
Bruce Graduates from NHA Leadership Institute