JCH&L Golf Tourney Raises Nearly $12,000
23rd annual tournament successful
FAIRBURY — The 23rd annual golf tournament to benefit Jefferson Community Health & Life was successful, raising nearly $12,000.
"We are very pleased with the success of this annual event. It's a great way for JCH&L supporters to have a good time and help provide quality health care for our community," said Chad Jurgens, JCH&L Chief Executive Officer. "This year's event raised nearly $12,000."
The golf tournament, held Friday, Aug. 9 at the Fairbury Country Club, was a fund-raiser for Jefferson Community Health & Life, a 17-bed critical access hospital located in Fairbury.
Winning teams were: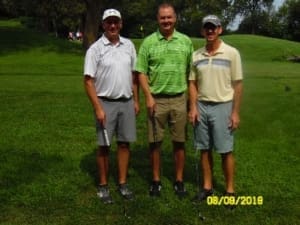 Champions of the championship flight were Seim Johnson – Chad Jurgens, Marty Dubas, Todd Johnson; second place: Westin Meats 1 – Eldon Hutchison, Jeremiah Traylor, Sam Schlictman; third place: Edward Jones – Jay Peterson, Ross Boeckner, Rodney Beranek.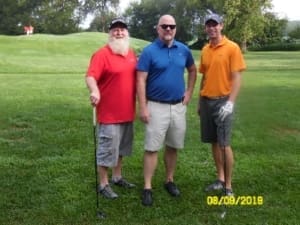 In the First Flight, winners were ConvergeOne — Craig Stork, Dennis Ahl, Dan Reikofski; second place: Davis Design—Jon Dalton, Darin Horst, Bryant Klotther; third place: Starr Buckow—Bill Runge, Krista Peterson, Jeff Meyer.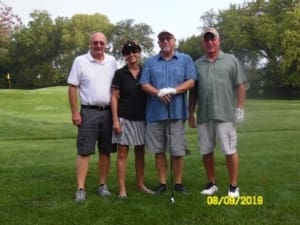 In the second Flight, winners were Den's Meats—Susie Patton, Larry Cote, Mike Seachord; second place: High Plains Anesthesia Associates—Marci Gillham, Penni Mitchell, Jamie Swanda; third place: MedHost—Jordan Ahl, Logan Ahl, Bladen Ahl.
This year's sponsors include:
Hole sponsors: American National Bank, Beckenhauer Construction, Brown's Medical Imaging, Bryan Medical Center, Cerner Corporation, Davis Design, Den's Meat Distributing Inc., Heartland Bank, High Plains Anesthesia Service, Lottman Concrete Construction, M&B 2 Cylinder, MedHost, Rural Sleep, Seim Johnson, The Olson Group, Westin Packaged Meats/Fairbury Operations.
Breakfast Sponsor: Collection Associates
Lunch Sponsors: Gill Insurance Services, Inc., Plymouth Electric, MMIC/Constellation
Contributing Sponsors: Blue Cross and Blue Shield of Nebraska, Focus One, MedHost, Prairie Health Ventures, Dr. Vince and Brenda Sutton, Quality Sound, Thrivent, TriGard
Raffle Prize Sponsors: Barber Furniture, Bytespeed, JCH&L, McKesson, Ol' Red 99.5, Pepsi, Schwartz Paper, Sim's Florist
Other Sponsors: Precision Signs & Graphics LLC, signage; Ray's Applemarket, treats on the course; Fairbury Country Club; Kettlehut Real Estate, sound system
Flag Prize and Door Prize Sponsors: Beckenhauer Construction, Casey's General Store, Cerner Corporation, Directions EAP, Eakes, Jefferson Community Health & Life, McKesson, Nebraska Community Bloodbank, Ol' Red 99.5, PVI, Starr Buckow Insurance, Walmart #418- Fairbury
Teams: American National Bank, Avadyne, Beckenhauer Construction, Glen Blobaum, Blobaum & Busboom PC, ConvergeOne, Credit Management, Davis Design, Den's Meat Distributing, Edward Jones, Fairbury Dental Associates/Dr. Jack Wesch, Gerdes Meyer, Globe Rexall, High Plains Anesthesia Associates, M & B 2 Cylinder, MedHost, Nebraska Hospital Association, PVI, Rural Sleep Solutions, Ron Sasse Farm, The Olson Group, The 3 Gs , Bill Welch, Westin Packaged Meats (2 teams)
"We especially want to thank our sponsors, donors, golf teams and volunteers.  It wouldn't have been a successful event if we didn't have such great support from our community, our peers, and companies we work with regularly," Jurgens said.
https://www.jchealthandlife.org/wp-content/uploads/2019/08/Seim-Johnson-for-web.jpg
300
400
Lana Likens
https://www.jchealthandlife.org/wp-content/uploads/2017/02/JCHL_Logo_header_340x156.png
Lana Likens
2019-08-19 12:57:33
2019-08-19 13:12:46
JCH&L Golf Tourney Raises Nearly $12,000