JCH&L Named Among Top 100 Critical Access Hospitals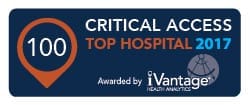 FAIRBURY, Neb. — For the third time, Jefferson Community Health & Life has been named a top 100 critical access hospital in the United States according to iVantage Health Analytics and The Chartis Center for Rural Health. The Top 100 were announced in February at the National Rural Health Association's Policy Institute.
Jefferson Community Health & Life scored in the top 100 of critical access hospitals (CAHs) on the iVantage Strength INDEX™ in 2017, and also made the Top 100 list in 2014 and 2015. The INDEX is the industry's most comprehensive rating of U.S. acute care hospitals, and the only one to include the country's 1,300 CAHs. Click here to view the Top 100 list for 2017.
JCH&L was also named one of the nation's 2016 Performance Leadership Award winners by the iVantage and the National Organization of State Offices of Rural Health. JCH&L was recognized for overall excellence in finance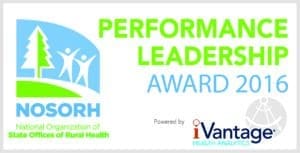 and in patient satisfaction.. The rankings were determined by the Hospital Strength INDEX®, the industry's most comprehensive and objective assessment of rural hospital performance. In partnership with NOSORH, iVantage Health Analytics has developed a data driven program designed to identify excellence across a broad spectrum of indicators relevant to hospital performance and patient care. The Hospital Strength INDEX captures performance metrics for all rural and critical access hospitals. The release of the Top 100 critical access hospitals expands on research presented as part of the 2017 Rural Relevance Study: Vulnerability to Value from the Chartis Group.
"These recognitions affirm that our emphasis on quality, performance and satisfaction are making a difference to the community we serve and to our health center. It is because of the work and care of our staff, physicians and board, and the support of our community that we are able to meet and surpass the benchmarks for recognition," said Chad Jurgens, JCHC chief executive officer.
While many rural hospitals struggle financially nationwide, this recognition is a reminder that JCH&L has been able to remain financially strong, and continues to provide the technology that modern health care facilities require. JCH&L just changed its name to reflect a new Commitment to Health and emphasize its role of inspiring a lifetime of health for area residents. JCH&L completed a major renovation project in 2015 to offer private patient rooms and renovate ancillary service areas.
Jefferson Community Health & Life was previously named as a Top 100 critical access hospital for 2014 and 2015. JCHC is one of 10 Nebraska Critical Access hospitals to be recognized for 2017. Other Nebraska Critical Access Hospitals named to the Top 100 CAH list are: Antelope Memorial Hospital, Neligh; Avera St. Anthony's Hospital, Ellendale; Box Butte General Hospital, Alliance; Brodstone Memorial Hospital, Superior; Community Hospital, McCook; Community Medical Center, Falls City; Howard County Medical Center, St. Paul; Memorial Health Care Systems, Seward; Sidney Regional Medical Center, Sidney. More information on the iVantage Top 100 index can be found at www.ivantagehealth.com.
https://www.jchealthandlife.org/wp-content/uploads/2017/02/JCHL_Logo_header_340x156.png
0
0
Lana Likens
https://www.jchealthandlife.org/wp-content/uploads/2017/02/JCHL_Logo_header_340x156.png
Lana Likens
2017-03-06 20:49:26
2018-09-25 14:05:23
JCH&L Named Among Top 100 Critical Access Hospitals